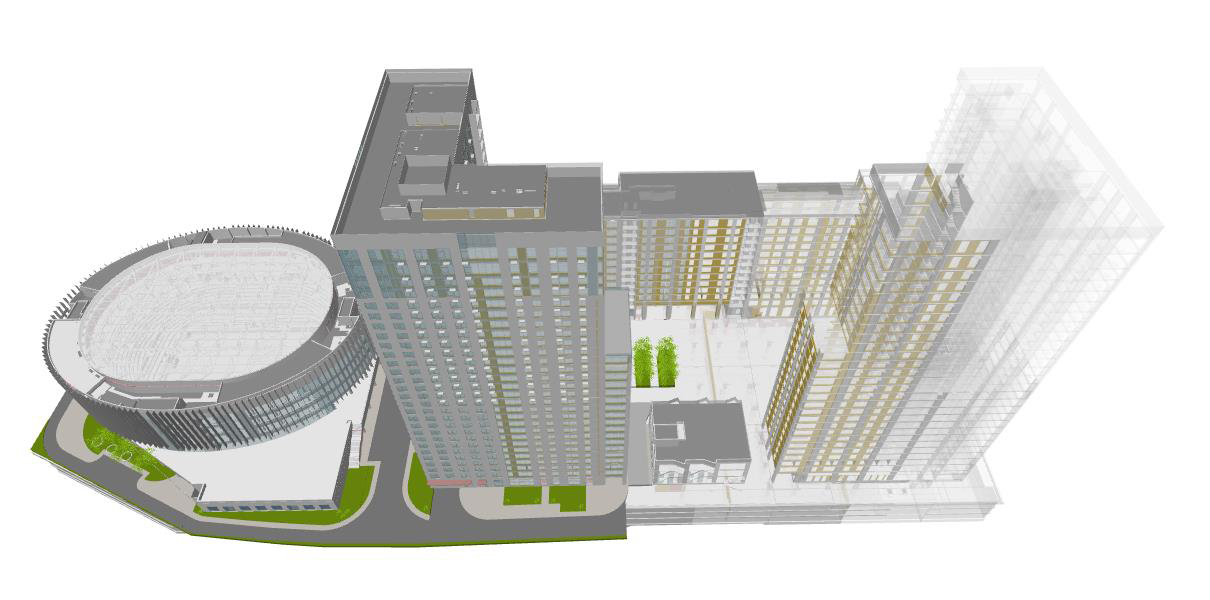 | | |
| --- | --- |
| | Match Point |
| | Moscow, Russia |
| | Commercial, Residential, Volleyball arena |
| | 2015 – present |
| | 205,000 m2 |
The Match Point is mixed use complex in Filyovsky park District, in the city of Moscow. The complex consists of residential zone with 1600 apartments in upper floors, and other facilities on ground floor (offices, coffee shop with 44 seats, entrances and vestibules…), sports arena for volleyball with 3500 seats and underground parking garage with 1600 parking spaces.  The gross floor area of the complex is 206 000 square meters.
BEXEL's involvement in the project started in the tendering stage, in which we were hired by the potential (later awarded) General Contractor to:
Develop the pre-tender 3D BIM model, quantity takeoff and 4D construction process simulation in order to enhance the Client's project evaluation, improve the competitiveness of the proposal for the General Contractor services, and present the Client's proposed construction schedule, project delivery vision and technology.
Develop a full 3D BIM model based on architectural, structural and MEP designs.
Keep the model up-to-date and run regular constructability analyses in order to detect & resolve conflicts among architectural and MEP elements.
Generating comprehensive design review analyses.
Create accurate quantity takeoffs of all design disciplines broken down by various criteria to facilitate construction planning, subcontractor coordination and payment certification.
Develop 4D construction simulations and audit the construction schedule.
Develop materials and resource flows, procurement plans and resource balancing.
Monitor the construction progress with an on-site monitoring team – collecting and analyzing construction progress data – gathering, validating and auditing construction progress information with database archiving.
Generate construction reports using BEXEL Software Suite – harnessing construction progress information and developing actual construction schedule, running virtual construction simulations and compare various construction scenarios.
Provide the Client with planned vs. actual analysis, risk analysis and recommendations.
Generating cash flows, executive reports and predictions.