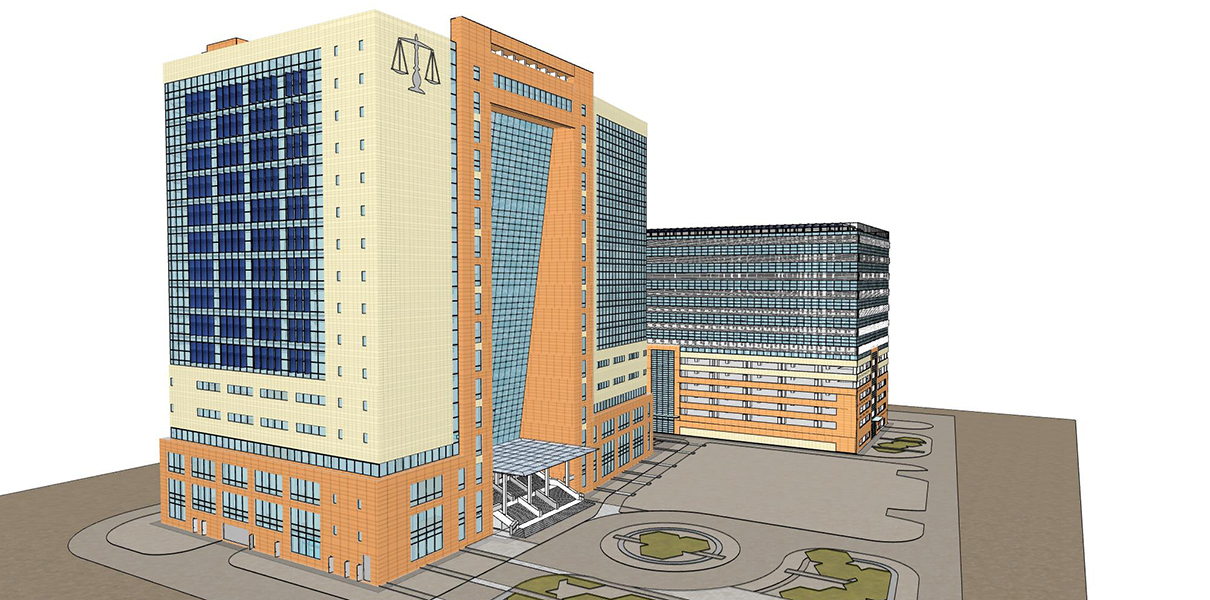 | | |
| --- | --- |
| | Farwaniya Court Complex |
| | Kuwait City, Kuwait |
| | Court Complex / Governmental |
| | 2013 – 2014 |
| | 200,000 m2 |
The court complex is located in Al Farwaniya, a suburb of Kuwait City in Kuwait. This complex consists of a main court building and a car park building, with a total area of nearly two hundred thousand square meters.
The court building consists of 80 state-of-the-art courtrooms, administrative and governmental offices, 23 conference rooms, cafes and associated public spaces. The Car Park building consists of twenty three levels in total, including conventional parking spaces below the fifth floor, and the automated car park facility above it, totaling 2926 car parking spaces.
BEXEL worked directly for the Kuwaiti government (Al-Diwan Al-Amiri), in cooperation with the consultant (PACE) and main contractors. The following services were provided on the projects:
Develop a full 3D BIM model based on architectural, structural and MEP designs.
Keep the model up-to-date and run regular constructability analyses in order to detect and resolve conflicts among structural, architectural and MEP elements.
Construction monitoring with on-site monitoring team.
Provide advanced 3D/4D construction visualizations based on the BIM model, in order to improve contractors' and other stakeholders' insights into the construction process with BEXEL Software Suite BIM Analysis Tools, BEXEL's proprietary software package.
Collect, analyze and process all construction progress data – while generating day by day progress audits, executive reports and predictions.
Construction Schedule Development & Analysis
Analyze and optimize available contractor's construction schedule, update and revise as necessary;
Anticipate problems and suggest solutions.
Provide Investor with planned vs. actual analysis, risk analysis and recommendations.
Financial analysis and reports – cash flows and executive reporting.